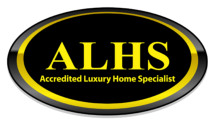 NOBÉL DAVIS:
SANTA FE
ACCREDITED LUXURY HOME SPECIALIST (ALHS)


Knowledge, Experienced, Credentials, Character.
Those are the words that best represent a real estate professional who has earned the ALHS designation. Nobél Davis is a Santa Fe Accredited Luxury Home Specialist and joins a small and elite group of people who stand out due to their commitment to professionalism and to providing exceptional service to their clients.
You can be confident in someone who has earned the ALHS designation because they have satisfied the following requirements:
Graduated from the extensive ALHS Course
Passed the ALHS written exam
Closed at least two transactions that meet the luxury home definition
A current member in good standing of the Luxury Home Council
Belongs to the National Association of REALTORS® or the National Association of Home Builders
Belonging to the NAR not only indicates that a real estate agent is a REALTOR®, it also means that the individual is committed to upholding the code of ethics that organization stands for.
As a client of a real estate agent or broker with an ALHS designation, you are the beneficiary of the work that went into earning the designation. ALHS designees have delved into the implications of working with luxury home buyers. They've studied the national and regional trends in the luxury home market, carefully defined the needs and desires of the luxury home buyer and seller, learned the best techniques for staging and selling luxury homes, negotiating a luxury home transaction, and the list goes on.
When you're buying or selling a Santa Fe luxury home, working with a Santa Fe Accredited Luxury Home Specialist, such as Nobél Davis, will ensure that you have the personal assistance and information you need to make informed decisions.