December, 2018 Santa Fe Events
Featured This Weekend:

Saturday, December 8th 10:00 – 4:00
3rd Annual Holiday Home Tour by Santa Fe Women's Club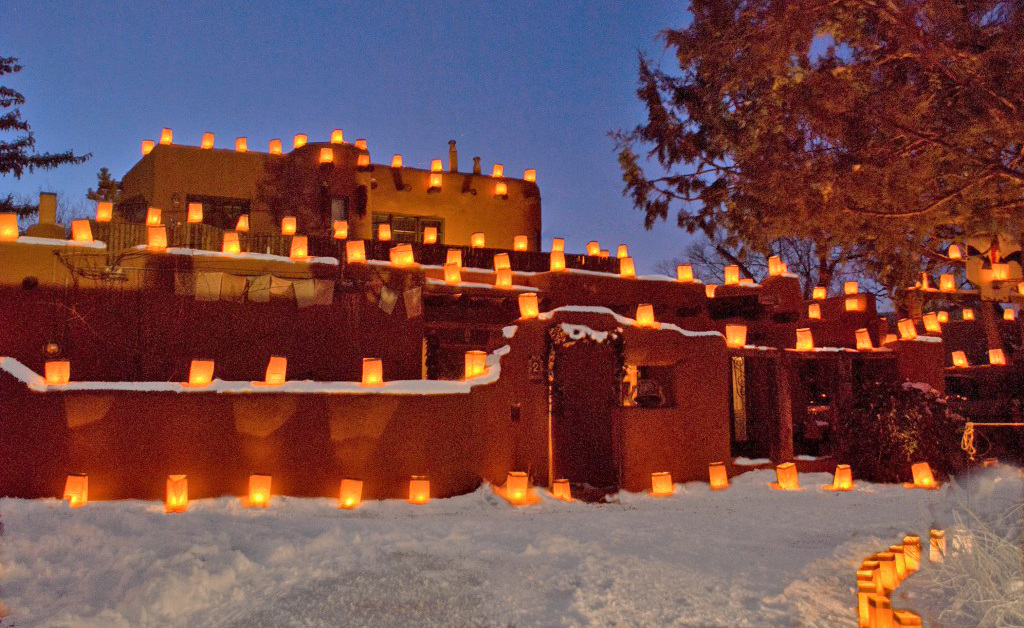 Holiday Traditions in the City Different ::

Tickets $25
On the Woman's Club Holiday Home Tour, you will take a self-guided trip to six beautifully holiday-decorated homes that are being generously open to viewing by Santa Fe residents. Each one of these unique homes has something different to offer in architecture, art and especially in the choice of decorations.
Our Clubhouse is the first stop and there you may purchase tickets while enjoying the welcoming surroundings.
Home #2 has lots of Santas, a charming Christmas Ski Village, a skating pond, carousel and train (all child-size, of course). There's even a quirky Elvis toy singing "Blue Christmas.)
At #3, there's a celebration of Hanukkah featuring a collection of Menorahs along with traditional food and games.
Santas galore from around the world will be shown at #4 together with three whimsical sculptures: "Dog-Walking Angel," "Butler Angel," and "Pope Angel."
Two stunning Christmas trees adorned with hand-carved birds and hand-blown glass balls from Paris are standouts at the dual historic buildings located at #5.
A flavor of Mexico resides at home #6 where the holidays become even more colorful.
#7 was featured in the Santa Fe Parade of Homes in 2008. The owners are artists and you will see many delightful pieces of art and furnishings.



All proceeds benefit the Woman's Club Scholarship Fund.



December, 2018 Santa Fe Events

December 1st —
Mariachi Christmas at The Lensic
December 1st —
Youth Shakespeare Festival Santa Fe at Meow Wolf
December 1st —
Madrid Christmas Parade in Madrid
December 1st & 2nd —
Recycle Santa Fe Art Festival at Santa Fe Convention Center
December 1st & 2nd —
Young Native Artists Winter Show and Sale at New Mexico History Museum
December 1st & 2nd —
Baca Street Arts Tour
December 1st & 2nd —
Eldorado Winter Fest at Agora Center
December 1st & 2nd —
Santa Fe Women's Club Gift Fair at Santa Fe Women's Club
December 2nd —
Chanukah on the Plaza
December 2nd —
Santa Fe Youth Symphony Orchestra at James A Little Theatre
December 3rd —
Santa Fe Symphony: Home for the Holidays Gala at The Club at Las Campanas
December 4th —
The Ten Tenors at The Lensic
December 5th —
New Mexico Gay Men's Chorus Holiday Concert at The Lensic
December 6th —
GLOW Preview Party at Santa Fe Botanical Gardens
December 7th —
Christmas at the Palace at Palace of the Governors
December 7th —
SITE Scholars Inauguration at SITE Santa Fe
December 7th —
Adelante Winter Fundraiser at Tumbleroot Brewery
December 8th —
Holiday Home Tour by Santa Fe Women's Club
December 8th —
New Mexico Children's Foundation Holiday Tea at Hotel St. Francis
December 8th —
Light Among the Ruins at Jemez Historic Site
December 8th —
John Pizzarelli and Catherine Russell: Billie & Blue Eyes at The Lensic
December 9th —
Las Posadas at Santa Fe Plaza
December 9th —
Santa Fe Symphony: Christmas Treasures at The Lensic
December 9th —
Uranium Film Festival at Jean Cocteau Cinema
December 11th —
Women's Film Series: Miss Representation at CCA
December 14th —
Second Street Arts Collective Open Studios at Second Street Studios
December 15th & 16th —
Aspen Santa Fe Ballet presents The Nutcracker at The Lensic
December 16th —
Holiday Open House at New Mexico Museum of Art
December 18th —
Santa Fe Symphony: Carols and Choruses at St. Francis Cathedral
December 20th —
All is Calm: The Christmas Truce of 1914 at The Lensic
December 21st —
Museum Hill Holiday Stroll at Museum Hill
December 24th —
Santa Fe Symphony Christmas Eve Concert at The Lensic
December 29th —
Santa Fe Pro Musica: The Brandenburg Concertos at The Lensic
December 31st —
Joe Illick and the New Year's Eve Orchestra at The Lensic