February 2019 Santa Fe Events
Featured This Weekend:
Sunday, February 17th at 4:00 pm
Santa Fe Symphony: Adolphe, Williams & Mahler at The Lensic Performing Arts Center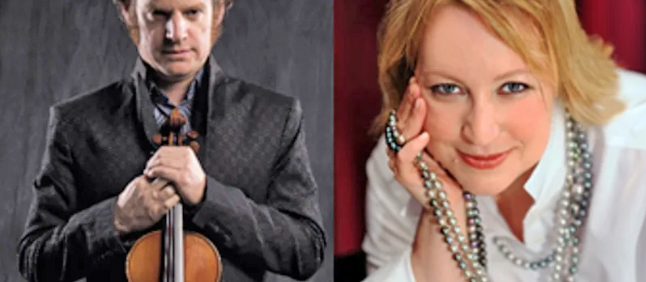 Concertmaster David Felberg takes center stage to perform Bruce Adolphe's passionate and lyrical Concerto for Violin. Then comes one of the most well-known and emotionally entrancing melodies in film history: Williams' beloved theme from Schindler's List. And finally, the luminous soprano voice of Mary Wilson fills the hall when she sings "Das himmleische Leben" in Mahler's wondrous Symphony No. 4.
February 1st —

Dean's Lecture Series: The Odyssey at St. John's College

February 1st —
Sam Elkind: Drifting, Images of Snow at Vista Grande Library
February 1st —
Um…It's an Art Show! at Santa Fe Convention Center
February 1st —
Jeremy Thomas: Unintended Consequences at CCA
February 1st —
New Mexico School for the Arts Winter Concert
February 1st —
Mountainfilm on Tour at The Lensic
February 2nd —
Lauria & Kott: Strontium at San Miguel Chapel
February 2nd —
Sound and Spectacle, Nakatani Gong Orchestra at SITE Santa Fe
February 5th —
Bodytraffic at The Lensic
February 6th —
Career Talks for Teens at LaFarge Library
February 6th —
Lannan Foundation at The Lensic: Tracy K Smith and Joy Harjo
February 7th —
Patricia Galagan and Karen Novotny: Cuba Now at Garcia St. Books
February 8th —
Nordic Voices at St. John's College
February 8th & 9th —
Phases Winter Dances at James A Little Theatre
February 9th —
Love Your River Day at Frenchy's Field
February 9th —
Soul Foundation at Ski Santa Fe
February 9th —
Cancer Foundation of New Mexico Sweetheart Auction at Convention Center
February 12th —
Contemporary Issues Facing People of Color at the Community College
February 12th —
Danielle Bassett: Networks Thinking Themselves at The Lensic
February 13th —
Lannan Foundation at The Lensic: Elif Shafak and Aminatta Forna
February 13th – 17th —
Santa Fe Film Festival
February 14th —
Richard Thompson Electric Trio at The Lensic
February 14th —
Corps Coffee with Matt Brown at Santa Fe Art Institute
February 14th —
Ninfa and La Foce: A Garden Duet at Stuart Udall Center
February 15th —
Death of a Writer at Santa Fe Playhouse
February 15th —
Selected Political Prints from Mexico at THE Magazine Project Space
February 16th —
Great Backyard Bird Count at Leonora Curtin Wetland Preserve
February 17th —
Santa Fe Symphony: Adolphe, Williams and Mahler at The Lensic
February 19th —
Black History Panel Discussion at Santa Fe Community College
February 19th —
Steps to Starting a Small Business at Higher Education Building
February 20th —
The Choir of Man at The Lensic
February 21st —
Drawing After Hours at Georgia O'Keeffe Museum
February 23rd —
Aspen Santa Fe Ballet at The Lensic
February 23rd —
Santa Fe Soul Festival Inspirational Dance Contest at Railyard Performance Center
February 23rd —
Laurie McDonald: Empowering the Solo Traveler at Travel Bug
February 24th —
Jumpstart Your Memoir at Stewart Udall Center
February 24th —
Santa Fe Pro Musica: Cuarteto Casals at St. Francis Auditorium
February 26th —
Wade Davis: Why Ancient Wisdom Matters at The Lensic
February 27th —
Lannan Foundation at The Lensic: Richard Powers with Tayari Jones
February 28th —
Glenn Miller Orchestra at The Lensic