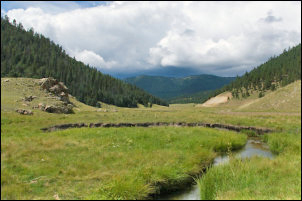 When you want to slow down a bit, you can't beat a trip to the Jemez Mountains.
This part of the Santa Fe National Forest is a popular destination for anyone who loves the outdoors.
You can visit the park to hike along pristine trails and take in the natural beauty of the mountains and rivers. If fishing is your sport, you'll find excellent spots all along the Jemez River. Campgrounds are also available for those who'd prefer more than a day trip. Cross country skiing is a favorite winter sport.
The Jemez Mountain Trail is a scenic drive, and one of New Mexico's most spectacular. Along the way, you can take in the breathtaking scenery, explore Indian ruins, and visit the remnants of the area's logging, mining and ranching past.
The Jemez Mountains are the home of mineral hot springs. You can bathe in the springs and get a massage when you visit one of the area's spas. If all that relaxation has put you in a shopping mood, visit the art cooperatives before having dinner at one of the local restaurants.
Explore the local culture by visiting the Jemez State Monument in Jemez Springs. The seven acre site has an interpretive trail that will take you through time and history. The Walatowa Visitor Center is another popular landmark. It is the portal to the Native American tribe that lives on approximately 89,000 acres of protected land.
You'll learn a great deal about local history by visiting the Museum Shop or a reconstructed Fieldhouse that the Jemez people used as basecamps for their hunting, gathering and agricultural activities.
The Photographic Exhibit at the visitor center leads you on a fascinating trip through over 100 years of history. Then, you might want to sample traditional local foods at the Jemez Red Rocks, which also hosts a conference center for business or personal events.
To truly immerse yourself in the local culture, you can attend demonstrations of pottery making, stone carvings, food demonstrations and traditional dance.
Santa Fe is a city of contrasts. When you purchase a home in Santa Fe, you can take advantage of all that the city has to offer, then get away to roam the beautiful countryside.